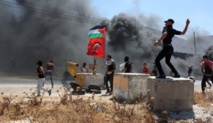 Gaza City - 55 Palestinians have died from Israeli fire during protests along the Gaza border, the Gaza Health Ministry says.
The Palestinian Red Crescent Society, a separate medical service in Gaza, said that 227 Palestinians have been injured by Israeli gunfire.
In a statement the Israeli army said its forces are "responding with riot dispersal means and fire, and are operating according to standard operating procedures" in response to "10,000 violent rioters."