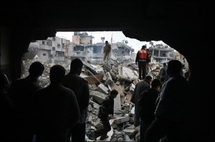 GAZA CITY (AFP) - Israeli warplanes killed three young brothers and demolished a mosque in Gaza on Friday as Hamas vowed to avenge the deadly week-long offensive on its embattled stronghold.
Israeli Prime Minister Ehud Olmert met with senior ministers as tanks and troops waited on the Gaza border where a ground offensive is expected to start within days.
Protests at the deadly bombardments spiralled in the Muslim world after Friday prayers. Israel's main ally, the United States, said however that it was working with Middle East allies on brokering a ceasefire.
"We are working toward a ceasefire that would not allow a re-establishment of the status quo ante where Hamas can continue to launch rockets out of Gaza," US Secretary of State Condoleezza Rice said after talks with President George W. Bush.
A missile fired by an Israeli jet slammed into a house in southern Gaza, killing three boys, aged from seven to 10. It was one of more than 40 fresh raids carried out in the overcrowded enclave on Friday.
Palestinians inspect the rubble of houses destroyed in the Israeli air strike that kille Hamas leader Nizar Rayan Mamud HamsSince Israel unleashed its air and sea campaign, at least 430 Palestinians have been killed, including 65 children, and 2,250 others wounded, according to Gaza medics.
The bombardment has demolished dozens of houses and raised heightened fears over the enclave where most of the 1.5 million residents depend on foreign aid.
"The protection of civilians, the fabric of life, the future of the peace talks and of the regional peace process has been trapped between the irresponsibility of the Hamas attacks and the excessiveness of the Israeli response," Robert Serry, the UN envoy for the Middle East, told reporters in Jerusalem.
Thousands of Hamas faithful attended the funeral of Nizar Rayan -- a firebrand hardliner who was killed with his four wives and 11 children on Thursday.
Hamas vowed to avenge the death of the most senior Hamas leader to be killed in the offensive and the most senior Islamist killed by Israel since Abdel Aziz al-Rantissi in 2004.
Smoke billows behind the minaret of a mosque in the northern Gaza Strip following an Israeli air strike
Mamud Hams"I call on the resistance to continue pounding Jewish settlements and cities," said Sheikh Abdelrahman al-Jamal as Rayan. "We will remain on the path of jihad."
Hamas called a "Day of Wrath" against Israel, which brought thousands of protesters out onto the streets of Gaza and the occupied West Bank. Police fired teargas at rock throwing youths in annexed east Jerusalem.
Hamas has warned it could resume suicide attacks against Israel for the first time since January 2005 to avenge the death of Rayan.
With a ground offensive widely expected and no ceasefire in sight, the Israeli army opened a border crossing to allow an estimated 400 foreigners leave the battered enclave.
A mosque in the northern town of Jabaliya that the military said was a "terror hub" used to stockpile weapons was among the latest targets hit in Israeli raids.
Long queues formed outside bakeries and other stores which only open during the rare hours when electricity is available.
Demonstrators wave Palestinan flags at Beyazit Square after Friday prayers in Istanbu
Hamas fired more than 30 rockets into Israel, but no casualties were reported
Israel unleashed "Operation Cast Lead" on Gaza on December 27 in response to persistent rocket fire from the territory, which has been under a crippling Israeli blockade since Hamas seized control in June 2007.
Gaza militants have fired more than 360 rockets into Israel over seven days, killing four people and wounding dozens more. Some rockets have reached up to 40 kilometres (24 miles) inside Israeli territory.
Map showing the principal attacks on day six of Israel's assault on Gaza
Demonstrations were held in many countries following Friday Muslim prayers, with protests held in Afghanistan, Egypt, Indian-administered Kashmir, Jordan, Indonesia, Kenya, Pakistan and Turkey.
Foreign Minister Tzipi Livni reiterated that Israel was not yet ready for a truce after talks in Paris on Thursday with President Nicolas Sarkozy and other French leaders.
"The question of whether it's enough or not will be the result of our assessment on a daily basis," she said.
Peace moves were also stalled at the UN Security Council, with "the gravity of the diplomatic activities... will be moving this weekend to New York," according to UN Middle East envoy Serry.