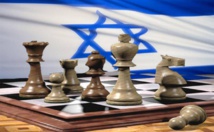 "We want to compensate our players for the fact that they were professionally damaged, and due to the economic circumstances," Israel Chess Federation spokesman Lior Aizenberg told dpa.
Aizenburg said his federation is demanding the World Chess Federation "immediately" cancel future competitions scheduled to take place in Saudi Arabia.
"They are organizing world tournaments without letting our players play," he said. "This is unacceptable to us."
The three-day King Salman International Chess Championship, organized by the World Chess Federation, is hosting 236 players representing 70 countries, with a total prize fund of 2,000,000 dollars, according to organizers.
Notepad