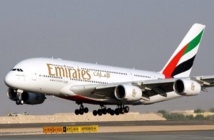 Four men were arrested in Sydney in July over an alleged terrorist plot, which involved smuggling a bomb hidden inside a meat grinder onto the Abu Dhabi-bound flight.
Home Affairs Minister Peter Dutton said his government was grateful for the information it had been provided by Israel.
"This Etihad flight was almost blown out of the sky and it would have resulted in hundreds of people losing their lives, so we are very grateful for the assistance Israel provided in that matter," he told Sydney radio 2GB on Thursday.
He said the information led "directly" to preventing the attack, and applauded the "enormous capacity within the Israeli intelligence-gathering space."
Dutton said 14 imminent terror attacks had been stopped in Australia in recent years with 85 people charged with terror-related offences.
Confirmation of the successful intelligence-sharing first broke in The Times of Israel early Thursday. A military officer was quoted as saying the Israeli Intelligence Corps provided "exclusive intelligence" that led to the prevention of the attack.
Israeli Prime Minister Benjamin Netanyahu later confirmed the report in a speech in Jerusalem, local media reported.
"I can tell you that this is one of many, many such actions that we did [in] preventing terrorism around the world," Netanyahu said.
An Islamic State operative sent components from Turkey through air cargo to the men in Sydney and instructed them on how to assemble a "high-end military-grade explosive." But the device never made it onto the plane, apparently because it was too heavy to pass check-in.
Among the four arrested men, two from Sydney's western suburbs were charged with terrorism offences. Another was released with charge while the final man was charged with an unrelated weapons offence,
In August, Lebanon's interior minister claimed the country's Internal Security Forces were responsible for aiding Australian authorities in foiling the plot.
Nohad Machnouk also alleged one of the Lebanese man linked to the failed plot had joined the ranks of Islamic State in al-Raqqa in Syria, the de-facto capital of the Jihadist group.