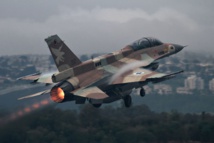 The agency, citing an unnamed military source, added that the alleged attack caused material damage only.
The source said the "new Israeli aggression" was carried out to distract attention from the progress made by the Syrian forces in a Russian-supported offensive against rebels in southern Syria bordering the Israeli-occupied Golan Heights and Jordan.
The Syrian Observatory for Human Rights, a war monitor, said that the town of Masyaf in the western rural part of Hama had been rocked by explosions resulting from rocket bombardment by suspected Israeli warplanes.
Columns of smoke were seen billowing over the area that houses military facilities, the Britain-based observatory, said without reporting casualties.
Israel rarely confirms the strikes it conducts inside war-torn Syria.