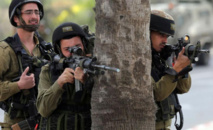 The 40-year-old man was stabbed outside a mall at a major traffic junction in the Israeli-occupied West Bank, the army said. A spokeswoman for the Shaare Zedek Medical Centre in Jerusalem confirmed his death.
The assailant, identified in Israeli media as a 16-year-old Palestinian from the West Bank town of Yatta, was shot by an armed civilian and subdued, the military said.
There was a spike in deadly knife attacks by Palestinians in Jerusalem and the West Bank starting three years ago but the frequency of the stabbings has waned in recent months.