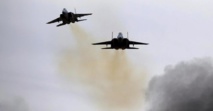 The army said in had struck munition storage sites, a site located in the Damascus International Airport, an Iranian intelligence site and an Iranian military training camp.
During the strikes, Israel warned the Syrian Armed Forces against attempting to harm Israeli forces or territory. Syrian state news agency SANA said Syrian air defences confronted the Israeli attack.
The Israeli aemy said that in response to dozens of Syrian surface-to-air missiles, it targeted several of the Syrian Armed Forces' aerial defense batteries.
The army said the strikes were in response to a rocket fired at the northern Golan Heights on Sunday. The rocket flew over the Israeli ski resort on Mount Hermon and was intercepted by the Iron Dome missile defence system.
"Yesterday (Sunday), Iranian Quds forces operating in Syrian territory launched a surface-to-surface rocket from Syrian territory aimed at the northern Golan Heights in Israel," the army said.
Hours earlier, Syrian media reported that at least five rockets were launched by Israeli jets at Damascus International Airport.
Addressing the subject, Prime Minister Benjamin Netanyahu said that Israel had a "permanent policy: to harm Iran's entrenchment in Syria and to hurt anyone who tries to hurt us."
The army said the rocket attack was proof of Iran's "real intentions of its entrenchment in Syria, which endangers the State of Israel and regional stability."
It stated that it holds the Syrian regime responsible for everything that takes place in the country.
Since the United States announced that it will withdraw its troops from Syria, Israel has repeatedly stated that it will not tolerate any Iranian attempt to entrench itself militarily in the country
The Mount Hermon ski resort was not opened to visitors Monday.
Notepad