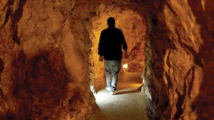 During a tour of the area on Thursday, Israeli Major General Yoel Strik provided UNIFIL's Stefano Del Col with a map of the Lebanese Shi'ite village of Ramyeh marking a group of houses from which the additional tunnel was being dug across the border blue line demarcation.
Conricus said the army has not yet exposed the tunnel, but noted that, like the first tunnel, it is not yet operational.
The purpose of the tunnels, Conricus said, is to "transfer the battlefield into Israeli territory" using militants from Hezbollah's elite Radwan unit.
Israel announced on Tuesday that it had launched an operation to neutralize the tunnels.
Lebanon's parliamentary chief on Wednesday denied Israel's claims about the existence of cross-border tunnels purportedly built by the pro-Iranian Lebanese Hezbollah movement, calling them "untrue."
Del Col, who is head of the UNIFIL mission, which monitors the border situation between the two countries, has called on Lebanon and Israel to "avoid misunderstandings" and ensure that security and stability along the border blue line are maintained.
UNIFIL confirmed the existence of the first tunnel near Metula in northern Israel, close to the blue line, based on a site inspection by Del Col and a technical team, UN spokesman Stephane Dujarric told reporters in New York.
The UN mission will now engage with the parties to pursue "urgent follow-up action" and communicate its preliminary findings to the appropriate authorities in Lebanon, he added.
"It is very important to determine the full picture of this serious occurrence," Dujarric said.
Notepad