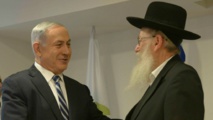 The resignation of Yaakov Litzman, an ultra-Orthodox lawmaker, comes after months of wrangling within Prime Minister Benjamin Netanyahu's fragile governing coalition over the infrastructure work. The controversy has resulted in delayed train construction and backlash from secular politicians.
Litzman's ultra-Orthodox United Torah Judaism party will remain in the governing coalition despite his resignation as minister.
In his letter of resignation, Litzman called the recent work on the train line a "desecration" and "unecessary," the Israeli news site Ynet reported.
According to Judaism, all forms of work are forbidden on the Sabbath, which lasts from Friday evening until Saturday evening. Most areas of Israel provide no public transportation on the Sabbath, which means maintenance work during that time would not disturb passengers' journeys.
"Throughout the generations, we knew that the Sabbath was protecting us, and we knew that this was the foundation of the covenant between the people of Israel and God," Litzman said. "Unfortunately Israel Railways made the last Sabbath a national day of renovations."
Israeli society leans secular, but ultra-Orthodox parties in the Israeli parliament have long held sway over key issues pertaining to religion and state.