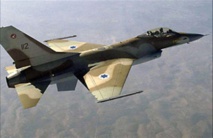 The incident, the first time in the multi-sided Syrian civil war that Syrian President Bashar al-Assad's forces downed an Israeli jet, could alter military calculations for Israel, where it until now had a relatively free hand to act.
Russia, a key player in the conflict and one with a large say over Syrian airspace, called for restraint and respect for Syria's sovereignty.
Syria's state-run SANA news agency reported that more than one Israeli plane had been "hit" by air defence systems.
An Israeli plane had not been brought down in such a manner since 1982, said Tomer Bar, an Israeli air force commander, according to local media. He was referring to the Israeli invasion of Lebanon that year.
Bar also expressed satisfaction that, for the first time, Israel had captured an Iranian drone.
Saturday began with Israel saying that it had launched strikes inside Syria against "Iranian targets" after an Iranian drone crossed into Israeli territory and was downed.
Officials would not comment on whether the drone was armed.
Iranian-backed Hezbollah, the Lebanese Shiite group also fighting in Syria, said the downing of the plane "heralds the beginning of a new strategic phase that puts a limit to violation of Syrian airspace and lands."
However, hours after the first raids, Israel again conducted airstrikes inside Syria, hitting a dozen additional targets, the Israeli military said, in a sign the air force was not deterred. Air defence systems were hit.
Sources in Damascus said there were casualties among Syrian forces, with up to three killed at a military site in central Homs province.
Iranian-backed militias inside Syria, fighting alongside al-Assad's forces in the seven-year civil war, denied the drone was aimed at Israel, saying it targeted Islamic State militants with a presence near the de-facto border.
"What the Israeli enemy said about the drone targeting them and entering the airspace of occupied Palestine is a misleading lie," the group of militias known as the Syria Allies Room said.
"These accusations by the Zionists are so ridiculous that we will not even respond to them," Iranian Foreign Ministry spokesman Bahram Ghassemi said. Iran only had an advisory role inside Syria, he added.
Israel regularly targets military sites inside Syria. Damascus' defence systems have recently attempted to fire back with anti-aircraft weapons.
"The Syrians and the Iranians are playing with fire," Israeli military spokesman Ronen Manelis said on the army's Twitter feed.
"We are ready to exact a very heavy price towards anyone who acts against us, but our intentions are not towards an escalation," Manelis said.
The two Israeli pilots ejected from the aircraft "as per procedure" and landed inside Israel, but one was injured and in serious condition, the army said. The plane itself crashed in the northern Galilee region.
The plane was downed by Syrian systems, according to an early military assessment, Israeli military spokesman Jonathan Conricus told dpa. Investigations were ongoing.
Israel was reaching out to Russia - a key backer of al-Assad alongside Iran, and the key aerial force on the side of the government - as well as the United States in an effort to prevent further escalation, the Israeli Ynet news site reported.
Russia's TASS news agency quoted the Foreign Ministry as urging restraint amid the latest escalation.
"We consider it necessary to respect absolutely Syria's and the region's other countries' sovereignty and territorial integrity," the statement said.
Israeli Prime Minister Benjamin Netanyahu met in Moscow with Russian President Vladimir Putin, in part over Syria and Iran, and the two countries are said to be holding regular consultations.
This week, Israeli missiles targeted a Syrian military research centre in the countryside near Damascus. Many of the strikes appear to have been launched from Lebanese airspace.
The Lebanese Foreign Ministry denounced the latest strikes, saying they were a threat to regional stability.
Israel sees Iran as a key nemesis. It has fought several wars with Syria and with the Iranian-backed Shiite militia Hezbollah in Lebanon. Israel also controls the Golan Heights, seized from Damascus' control following the 1967 regional war.
There have been signs of Israeli support towards some rebel groups in Syria, even as the Israeli military is concerned by Islamist factions.