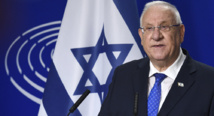 One person was killed and three injured when a gunman opened fire Saturday inside a synagogue in the town of Poway, north of San Diego.
"No country and no society are immune. Only through education for Holocaust remembrance and tolerance can we deal with this plague," Rivlin said in a statement.
"Our hearts are with the Gilbert Kaye family, who have lost their dear Lori, with the families of the injured and with the whole community. We are with you in these difficult times," Rivlin added.
Notepad