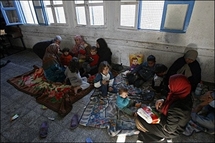 Explosions and heavy gunfire rocked the Shejaiya neighbourhood of eastern Gaza City as night fell, residents said. Flares lit up the skies over the blacked-out neighbourhood and assault helicopters buzzed overhead.
Hamas said its fighters unleashed missiles on seven tanks in Shejaiya and killed several Israeli soldiers. Israeli military sources confirmed heavy clashes in the district but refused to comment on possible Israeli casualties.
The Islamic Jihad group, an ally of Hamas, said several of its fighters were killed in the battle.
At least 12 children were among 50 bodies taken to Gaza hospitals on Monday after air and tank attacks across the territory, medics said.
Almost 100 children are among the 555 Palestinians killed since Israel started air raids on December 27, Gaza's emergency services said. More than 2,700 people have been wounded.
But as Israel intensified Operation Cast Lead, Foreign Minister Tzipi Livni rejected European calls for an immediate ceasefire.
"We are fighting with terror and we are not reaching an agreement with terror," Livni declared after talks with an EU ministerial delegation led by Czech Foreign Minister Karel Schwarzenberg.
Israel acted to change a situation where "Hamas targets Israel whenever it likes and Israel shows restraint," she said. "This is no longer going to be the equation in this region. When Israel is being targeted, Israel is going to retaliate."
The French president arrived later to reinforce the ceasefire campaign.
After a meeting in Ramallah with Palestinian Authority leader Mahmud Abbas, Sarkozy said he would tell Israeli leaders that "the violence must halt".
In Jerusalem, Sarkozy said: "We, Europe, want a ceasefire as soon as possible. Time is working against peace. The weapons must be silenced and there must be a temporary humanitarian truce."
The French president called the Hamas rocket attacks on Israel "irresponsible and unforgiveable", which brought a retort from the Islamists that he was "totally biased" toward Israel.
Russian President Dmitry Medvedev called for an immediate ceasefire after telephone talks with Abbas earlier, the Kremlin said.
But US President George W. Bush said any Gaza truce must ensure Hamas militants can no longer fire rockets on Israeli towns.
"I understand Israel's desire to protect itself and that the situation now taking place in Gaza was caused by Hamas," Bush said.
Israeli fighter jets carried out more than 40 air strikes during the day. The military said they hit a mosque "where arms were being stored" as well as houses and tunnels that they said were used as arms caches.
Naval ships off the coast also bombarded targets to help the ground offensive launched on Saturday night.
A couple and their five children were killed by one navy shell, medics said. Three children were killed by a tank shell in Zeitun in the Gaza City suburbs and two were killed in Shati by a naval strike, they said.
Israel says dozens of Hamas fighters have been killed while one Israeli soldier has been reported dead and 55 wounded since Saturday.
Defence Minister Ehud Barak said the war will go on. "We have hit Hamas hard, but we have not yet reached all the goals that we have set for ourselves and the operation continues," he told a parliamentary committee.
Three civilians and one soldier have been killed by rockets fired from Gaza since Israel's operation started. More than 30 rocket and missile attacks were reported on Monday. One hit a kindergarten which was closed because of the crisis.
Hamas, which has ruled Gaza since breaking with Abbas and seizing power in the densely populated Mediterranean coastal strip in June 2007, remained defiant.
"Victory is coming," the movement's senior leader in Gaza, Mahmud Zahar, said in a television address in which he praised "the most beautiful performances" of the group's armed wing.
"They (Israel) have legitimised the murder of their own children by killing the children of Palestine," he said. "They have legitimised the destruction of their synagogues and their schools by hitting our mosques and our schools."
Israel faces intense international pressure to ease the suffering of the 1.5 million Gaza population, which has no power or water supplies and endures a daily struggle to get food, according to aid agencies.
Eighty truckloads of food and fuel were allowed to cross into Gaza after long delays while aid agencies organised transportation on the Gaza side.
----------------------
Image of Palestinian families from Beit Lahia in the northern Gaza Strip taking shelter at a school run by the United Nations in Gaza City, by Mahmud Hams.