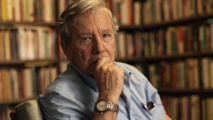 Many in the crowd were elderly. "For me, he was the last of the giants," a woman named Roni told dpa. He represented "the most beautiful Israel," she said.
Three days after the celebrated author and peace activist died of cancer at the age of 79, members of the public were invited to pay their respects ahead of a special memorial ceremony held at the theatre on Monday morning.
An elderly woman who withheld her name said Oz's voice "was the voice of reason."
"It was comforting to know there was a man like this," she added. Now that he is gone, she remarked, "the world is different."
Ze'ev Kolman, an author who was born one year before Oz in 1938, said the late luminary inspired him in the way he spoke and the knowledge he imparted.
The sight of flowers being carried into the theatre triggered a wave of emotion in Kolman, who broke down in tears.
"We have lost a special person," he said. "The genius and poet of the generation."
"He left in everybody's heart an important message," Tania, another mourner, said. "He could see the present like nobody else could."
Those sentiments were echoed by Israeli President Reuven Rivlin, who delivered a eulogy at the ceremony.
"Your eyes that always saw so well looked at the world with tenderness and with focus at the same time, with clarity, inquisitiveness and aspiration," Rivlin said. "But your most unique fingerprint, in everything you wrote, everything you said was your ability to look at things deeply from within but also a bit from the side."
Oz's daughter, Fania Oz-Salzberger, said her father could compress the Ten Commandments into one: "Don't hurt." It was a principle that he strived to live by all his life, she said.
Oz's hopes for social justice and for true peace in the Middle East, would live on beyond his death, Oz-Salzberger said.
"The power of words will not die," she said.
Notepad