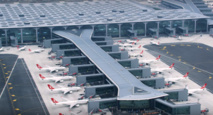 "All flights to and from Sabiha Gokcen will be stopped after a planned landing by Turkish Airlines from Malaysia before midnight," the airport's corporate communication director Canan Soysal said.
The number of flights at Sabiha Gokcen, the airport, fell by more than 75 per cent over the past week due to the pandemic, he said.
It remains unclear when flights will resume.
Turkey's coronavirus death toll increased by 16 in the past day to reach 108 on Saturday, Health Minister Fahrettin Koca said.
The number of confirmed cases has reached 7,402, a more than 1,700 increase from Friday, Koca tweeted.
The cases have been doubling almost each day since the first positive test was announced on March 11.
No curfew has yet been called in the country of 83 million.
The restrictions in place include the closure of most public spaces, schools and universities.
"Mobility needs to be minimized ... We need to self isolate at our homes as much as possible," Koca said.
President Recep Tayyip Erdogan on Friday announced all international flights to and from Turkey were suspended and that trips between cities will need the approval of local governors.
At the main Istanbul Airport, on the city's European side, Turkish Airlines will continue a limited number of domestic flights.
As the number of infections continues to grow, the main opposition Republican People's Party (CHP) on Saturday urged the government to impose a "stay-at-home" order.
"It is not possible to solve this problem with 'Stay Home Turkey' campaigns and by leaving it up to our citizens' will and initiative," CHP leader Kemal Kilicdaroglu said in a statement on social media.
Notepad