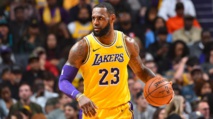 "If you promise to get your (butt) back in transition," Malone told the
Los Angeles Lakers
forward.
James relayed the message and they left to watch the end of the concert. They didn't fix what ailed them right away, but by the end of the third quarter, Team LeBron had taken control of the game. They beat Team Giannis 178-164 and James finished with 19 points, four assists, eight rebounds and two blocked shots.
Now the real work begins.
"Looking forward to the second half of the season," James said. "Looking forward to seeing what we can do to get back in this playoff race. That's my only mindset. That's the only thing that's going to happen in my mental space for these next two months, pretty much on how I can get this team playing the type of level of basketball we were playing before my injury."
The Lakers were fourth in the
Western Conference
before James suffered a strained groin
December 25
that kept him out for 18 games, 17 in a row. Since then, the Lakers fell to 10th in the conference and have only 25 games left to try to reach the playoffs.
Having finished their pre-All-Star portion of the season on a negative note with losses to the
Philadelphia 76ers
and
Atlanta Hawks
, the Lakers needed the break to reset. James got away briefly between their game in
Atlanta
on Tuesday and Saturday's media obligations in
Charlotte
.
Heading into an All-Star weekend in the city where
Michael Jordan
owns the basketball team, James was asked about his ambition to own an NBA team.
"It would have to be the right fit," James said. "It'd have to be the right city. It'd have to be the right situation. It's not like it's a dream of mine. It's more of an aspiration. See if it happens. If it don't, I won't be disappointed in anything I've done off the floor. We'll see what happens. I got a lot more game to play. I got a lot. A ton more years to play this game and suit up and be in a Lakers uniform."
As he often does in games that count, James took a few minutes to warm up. But in the second quarter, James scored eight points, three of them dunks in the five minutes before halftime.
"It's an All-Star game but he's getting loose and trying to put on a show," said Team LeBron guard
Klay Thompson
of the
Golden State Warriors
. "He has a lot of responsibilities as far as fandom on his shoulders and driving the game to new heights. To see him be a leader and take pride in that is motivating for us to be the best we can be."
James rushed to the postgame podium. The faster he got there, the faster he could leave and take advantage of his dwindling time before the next phase of the season.
"You put me on the floor, I love to compete," James said. "I'm a competitor, no matter what it is. I was competing to see if I can get to this table first. Did anybody come here before me?"
Nobody did.
"See what I'm talking about?" James said. "See you all the second half of the season."