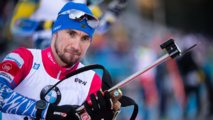 A spokesman said that neither Loginoiv nor the coach, Alexander Kasperovich, were detained and that the search was carried out based on Italian anti-doping legislation.
Russian state news agency TASS said that Loginov is suspected of having violated anti-doping rules and the coach, Alexander Kasperovich, to have used another person's credential to gain access to the worlds. The report said their rooms and cars were searched and personal items seized.
Loginoc served a two-year ban between 2014 and 2016 for using the forbidden blood booster EPO.
At the Anterselva worlds, he won sprint gold and pursuit bronze last week, and insisted he was competing clean.
Loginov told Russian sports network Match TV the police action was brutal but that no accusations were made. He confirmed he would compete in the men's relay later Saturday.
The ruling biathlon body IBU said it would cooperate in the probe by the Italian authorities and not comment further.
The IBU has lately banned several Russians over doping practices, including the now retired Olympic champions Evgeny Ustyugov and Svetlana Slepzova.