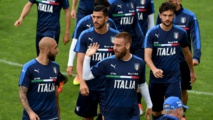 Rome (dpa) – Italy want to use their tactical and technical skills to boost their scoring threat when they play a first Euro 2020 qualifier against Finland Saturday in Udine.
Coach Roberto Mancini said he seeks "offensive and technical football" in his continuing effort to overhaul a squad that in November 2017 missed the World Cup for the first time in 50 years.
Mancini won three and lost two of his nine games and has a lame 8-8 goal record, but fans appreciated the squad's ball possession and dynamism, along with the clean sheets in the last three outings.
"Things have gradually improved," Mancini said. "Now we hope to continue on and score accordingly with the amount of actions we produce.
"The (Finland) game [followed by Liechtenstein's visit on Tuesday] is the toughest. I would like the team to keep playing with the same will of the last games, attacking and being ready to defend when needed. I want them to produce more good football."
Italy won 1-0 at Poland and drew 0-0 with Portugal in late 2018 to remain in the Nations League top tier as the Portuguese won the group and Poland were relegated to League B.
Full back Cristiano Biraghi, who netted a last-gasp winner against Poland, expects a tough game against Finland and recalled that "Italy traditionally struggle with teams from northern Europe," a reference to the World Cup play-off lost to Sweden in 2017.
"We will play our game," said Biraghi. "We must continue on our path of growth and we will do our best to start off on the right foot."
Confidence about Italy's chances to qualify came from Federico Bernardeschi, a winger who is enjoying a good season at Juventus.
"We showed a few good things in the last four games," Bernardeschi said. "We played very good football, having fun and pleasing those who watched us. This is the right path to play Euro 2020 at our best."
Mancini misses Lorenzo Insigne, another reliable winger, to injury, and may have to rest youngster Federico Chiesa, who is battling muscular issues.
At 36, Fabio Quagliarella was called back as he tops the Serie A scorers' chart with 21 goals, but Mancini also summoned the 19-year-old Moise Kean and the 35-cap Ciro Immobile as main strikers, while the offensive midfielder Nicolo Zaniolo, also 19, hopes to make his debut.
The four-time world champions won the continental title only once in 1968, reaching the final in 2012 to crash 4-0 against Spain, who four years earlier eliminated them on penalties in the quarter-finals.
In 2016, the Azzurri again exited on penalties in the last-eight with Germany.
Finland, who never qualified for the Euros, were promoted to League B as they competed with Hungary, Greece and Estonia in the Europa League. They have, however, lost three of their last four games including friendlies.
Armenia, Bosnia, Greece and Liechtenstein are the other teams in qualifying Group J.