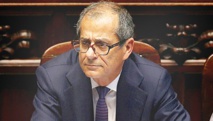 "We are entering a phase of constructive dialogue" with the commission in which there is "a need to tone down the hostility," Tria - a technocrat with no formal political affiliation - said in a parliamentary hearing in Rome.
In Brussels, meanwhile, the commission also sought to calm the atmosphere, after a meeting Tuesday between the speaker of the lower house of parliament, Roberto Fico, and commission President Jean-Claude Juncker.
"This was a good meeting, a moment to cool down the temperature," Juncker's spokesman Margaritis Schinas said following the talks, noting that it was up to Italy to find the means of staying within EU budget rules.
On Monday, Deputy Premier and Interior Minister Matteo Salvini had renewed a feud with Juncker and EU Economy Commissioner Pierre Moscovici.
Salvini, who leads the far-right League party, described the pair as "the enemies of Europe who are hunkered down in the Brussels bunker, the enemies of the happiness of Europe's people."
While Tria spoke in parliament, the spread - a country risk indicator which measures the yield differential between Italian and benchmark German 10-year bonds - jumped above 310 basis points, a five-and-a-half-year high.
"Obviously we are worried," Tria said, calling the widening yield differentials "unacceptable" and "unjustified," and vowing to reassure markets by explaining the rationale behind budget plans.
He also said that "the government will do what is has to do" if spread levels rise further to 400 or 500 basis points, which would push Italy on the brink of a financial crisis.
Italy's populist government, comprising the League and the anti-establishment Five Star Movement (M5S), wants to raise borrowing in the hope that this will stimulate a stagnant economy.
The extra deficit should also finance subsidies for the poor, a lowering of the retirement age and tax cuts, which the League and the M5S promised voters before March general elections.
Rome's budget calculations hinge on GDP growth estimates of 1.5 per cent and 1.6 per cent for 2019-2020, which many economists see as overly optimistic.
By comparison, the International Monetary Fund (IMF) lowered 2019 GDP growth predictions for Italy to 1 per cent, in a survey of the world economy released overnight.
"Our concern about Italy is that there is a real imperative for the fiscal policy to maintain confidence, the confidence of markets," IMF chief researcher Maurice Obstfeld said in a press conference.
He said a rising spread "contributed to our downgrade of Italian growth and makes the economy more susceptible to shocks," and urged Italy to "operate within the framework" of EU budget rules.
Italy, the eurozone's third economy, is under pressure to keep its accounts in order because its public debt stands at more than 130 per cent of GDP, one of the highest levels in the world.