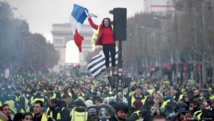 M5S leader and Italian Deputy Premier Luigi Di Maio is looking for partners to form a new political group in the European Parliament following May's elections for the EU assembly.
Speaking in Rome, Di Maio said the group would include: Zivi Zid, a Croatian leftist-populist movement; AKKEL, a tiny Greek farmers' party; Kukiz 15, a rightist-populist force in Poland led by a former rock musician; and Liike Nyt, a pro-free market party from Finland.
Political groups in the European Parliament need to be formed by at least 25 deputies from seven different countries, meaning that the M5S needs at least two more partners in Europe.
Some members of France's Yellow Vest protest movement are planning an EU elections run, but attempts by the M5S to reach out to the unstructured group have proven controversial. Di Maio said there was an ongoing "dialogue."
"I want to stress that we have no intention to have a dialogue with [Yellow Vest factions] who talk about a civil war, of armed insurrection," he stressed.
Last week, France recalled its ambassador to Rome after Di Maio had talks near Paris with Christophe Chalencon, a radical Yellow Vest figure.
On Thursday, Italian TV La7 broadcast footage in which Chalencon said France was "on the verge of civil war," with "paramilitaries" ready to attack the government.
Hours before Di Maio spoke, the French government announced the return to Rome of its ambassador, de facto ending the diplomatic spat with Italy.