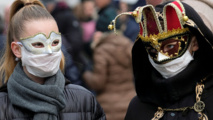 Politicians such as President Sergio Mattarella took the occasion to talk about the resistance under Nazi occupation and the reconstruction of the country, to encourage the population as it battles the virus.
In Italy, larger gatherings are banned due to the danger of infection. Nonetheles, people sang the resistance song "Bella Ciao" and hung Italian flags from their windows. Many placed their songs online.
Jazz trumpeter Paolo Fresu played the tune to an empty square in Bologne and posted a video online.
Mattarella was almost alone as he laid a wreath at the Altare della Patria, the monument to the fatherland built at Rome's Piazza Venezia.
He called on citizens to draw strength from their past amid the current crisis, saying, "Our special strength lies in knowing how to overcome difficulties - let us draw on that now during this difficult test that is the disease that has destroyed so many lives."
Italy's day of liberation is not marked on the day that World War II officially ended, but recalls uprisings by the resistance movement.
Italy was initially an enemy of the allies, but switched to fight on their side. Germany capitulated on May 2, 1945.
Days earlier, on April 25 and 26, Italy's partisan brigades took control of several major cities.
Notepad