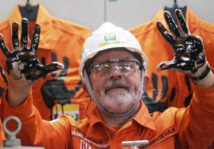 The left-wing Workers' Party (PT) registered Lula as its main presidential candidate last month, despite the fact he has been in prison since April, serving a 12-year sentence for corruption.
General Prosecutor Raquel Dodge and several other right-wing lawmakers had lodged complaints against his candidacy.
The most recent opinion polls put Lula a 40 per cent approval among voters surveyed, far ahead of his would-be election rivals.
Behind Lula in second place was right-wing populist Jair Bolsonaro, who speaks highly of the military dictatorship that ran the country between 1964 and 1985 and has expressed views against homosexuals and black people.
The PT may now replace Lula with its candidate for his vice president, former Sao Paulo mayor Fernando Haddad.
But Lula still has the opportunity to appeal Friday's decision.
Lula was found guilty of corruption and money-laundering in connection with the renovation of a beachside penthouse, which was bankrolled by a company seeking contracts with the state oil giant Petrobras.
The case was linked to the massive Lava Jato corruption scandal surrounding Petrobras, which has led to dozens of entrepreneurs and politicians being jailed.
His party regards the judicial proceedings as a manoeuvre by the political right to keep leftist Lula out of the presidential race.
"My imprisonment was the latest phase in a slow-motion coup designed to permanently marginalize progressive forces in Brazil," Lula wrote in The New York Times last month.
Lula rose from a shoe-shiner to one of the most popular politicians in Brazil's history. He is credited with pulling tens of millions of people out of poverty, partly through social programmes financed with oil money, during his 2003-10 presidency.
The October 7 election is expected to go into a second round on October 28.