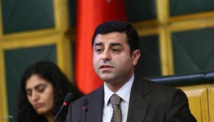 Selahattin Demirtas,
Often posing with a smile, the 45-year-old might be the most exceptional politician challenging President Recep Tayyip Erdogan in upcoming snap polls.
Demirtas has been in pretrial detention since 2016 on terrorism charges. He is also on trial in a number of separate court cases, including one for allegedly insulting the president in comments regarding political tension with Russia in 2015.
The charismatic former co-chair of the pro-Kurdish People's Democratic Party (HDP) is popular on social media, where he shares his thoughts through statements to his lawyers, who then transmit them on social media.
He has often mocked Erdogan, making defiant remarks in interviews with local and international media through his Twitter account. He has pledged to strengthen democracy, uphold republican values and find a peaceful solution to the decades-long conflict in south-east.
Erdogan leads the polls and Demirtas is unlikely to even make second place. But Demirtas still maintains hopes he will succeed.
"Come to the prison if you dare and we discuss this or I will answer you on the stage. But, in any case, you will get the clearest answer at the polls on June 24," he tweeted on June 11.
Demirtas was reacting to Erdogan's claims that the HDP leader is responsible for the killing of 53 civilians during clashes in the south-east in 2014.
Erdogan even charged that Demirtas is a "terrorist" and that he should not have been allowed to run for the presidency.
On June 6, Demirtas transmitted an election speech on his Twitter account, after his wife recorded is using her mobile phone.
On June 8, he had a Q&A session, receiving questions on Twitter and sharing pictures of some of his answers, written on paper.
"Who is Erdogan? Sorry I cannot recognize that," he responded to one question asking how he felt when the president verbally attacked him
"I will surprise her and visit as the president," Demirtas wrote on claims that German Chancellor Angela Merkel invited Erdogan to visit Berlin after the elections.
Demirtas helped the HDP enter the parliament for the first time in 2015; leading Erdogan's ruling Justice and Development Party (AKP) to lose its absolute majority at the time.
He challenged Erdogan in the 2014 presidential election and managed to get 9.8 percent of the votes, making it into third place.
It is crucial for the HDP to be able to pass the election threshold of 10 percent. Polls suggest they could do so and gain as many as 80 seats in the 600-seat parliament. That could allow the party to play a kingmaker role.
Demirtas, also a human rights lawyer, comes from Elazig in eastern Turkey. His wife and two daughters live in Diyarbakir, some 1,600 kilometres away from Edirne, where he sits in prison.
State-run broadcaster TRT is expected to broadcast two Demirtas campaign addresses, on June 17 and June 23, from the prison.
On June 13, HDP's Twitter account featured Demirtas singing a song which he composed in prison and sang to his wife during his weekly 10-minute phone call.
Titled "Do not Fear," the song was turned into a clip with the help of additional vocalists.