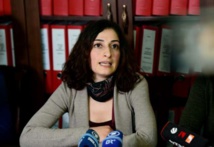 In a press conference at the airport in Stuttgart, Tolu told journalists she could only partially enjoy being back in Germany.
"I didn't really look forward to leaving, because I know that nothing has changed in the country where I was imprisoned," she said.
She added that she wanted to continue fighting for people imprisoned in Turkey on political grounds.
Tolu described how Turkish police had raided her home in April 2017, saying she was violently knocked down, threatened and insulted, and a weapon was aimed at her son.
She said she was denied access to consular support during her subsequent pre-trial detention, calling the events a "chain of injustice."
She also described how her son had spent time with her in a women's prison in Bakirkoy, Istanbul.
Tolu was born in Ulm, in southern Germany, where she went to school, and her family lives in the neighbouring town of Neu-Ulm.
It was announced on August 20 that a Turkish court had lifted the travel ban on Tolu, eight months after she was released from prison, but the trial against her on terrorism-related charges will continue.
Her next hearing is on October 16 in Turkey. Tolu told the press conference she wanted to return to Turkey to prove her innocence, because she believed she was in the right.
"Of course it's an unpredictable regime in charge that could do it all again. But I am pretty brave," she said, adding that she would not willingly put herself in danger because she had to think of her son.
The 33-year-old journalist for leftist news agency ETHA was arrested in May 2017. Along with 17 Turkish defendants, she faces charges of terrorist propaganda and membership of the Marxist-Leninist Communist Party (MLKP), an extreme-left group designated as a terrorist organization in Turkey.
Tolu was released from custody pending trial on December 18, but had been prohibited from leaving the country. Her husband, Suat Corlu, who is facing similar charges, must remain in Turkey.