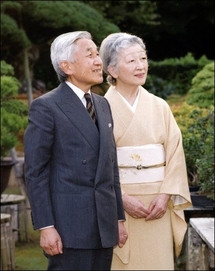 Akihito, who in 2009 will mark 20 years since he ascended the Chrysanthemum Throne, has cancelled a customary annual news conference ahead of his birthday Tuesday due to health problems.

The emperor, whose father Hirohito was revered as a demigod until Japan's defeat in World War II, will instead issue a statement expressing his "feelings" on his birthday.

His plight has renewed public attention on stress among the royals. Crown Princess Masako has skipped most public duties since late 2003 as the former career woman struggles to adjust to the tradition-bound palace.

On December 11, Imperial Household Agency chief Shingo Haketa surprised the public by going on the record about the emperor's distress.
AFPJapanese Emperor Akihito
©AFP/File Toshifumi Kitamura

The emperor has seemed "worried for the past several years about the future imperial line and various other issues concerning the imperial household, which never leave his mind," Haketa said, while noting it was his personal view.

Masako gave birth to a girl in 2001 after eight years of marriage with Crown Prince Naruhito.

The birth fuelled a divisive dispute on whether the nation should allow a woman to sit on the Chrysanthemum Throne, which traditionalists say has an unbroken male line of succession.

The succession dispute subsided in 2006 when the wife of the crown prince's younger brother gave birth to a boy, the first prince in 40 years born to the royal family.

But experts say a single boy cannot stem the succession crisis in the 2,000-year-old monarchy as all other children in the broader imperial families are women and become commoners upon their marriage.

"Imperial families are supposed to have some spare blood in store," said Tsuneyasu Takeda, a descendant of one of 11 families stripped of their royal status after the war under the US occupation.
AFPEmperor Akihito (L), Empress Michiko (2nd L), Crown Prince Naruhito (C), Prince Akishino (2nd R) and Princess Kiko
©AFP/File Katsumi Kasahara

"We are in a very risky situation, like driving a car without any insurance," he told AFP. "It is easy to imagine that this has caused stress on the emperor."

Shinji Yamashita, a former official of the Imperial Household Agency, said: "Politicians don't bother to think about the future of the royal family. They only try to get over the imminent problems."

"They know they can't win votes by talking about the imperial system," said Yamashita, who publishes a quarterly magazine on royal matters.

On December 9, doctors for the emperor announced that they had found traces of bleeding in his stomach and duodenum that may have been caused by physical and mental problems.

"His Majesty has long endured mental suffering and anguish. My impression is that this is a major problem," medical supervisor Ichiro Kanazawa told reporters, saying his tight schedule was not solely to blame.

On the same day -- which was Masako's 45th birthday -- the medical team for the princess separately said she was steadily recovering but admitted that she had had a "large" amount of stress which required years of treatment.
AFPJapanese Crown Princess Masako (R) with Princess Aiko (C) and Crown Prince Naruhito
©AFP/mperial Household Agency/File

"We would like to ask for humane, warm consideration" for her, doctors said in a paper issued to the press to explain her condition.

Takeda, the descendant of a former royal, said pressure to produce a male heir made the princess sick but that her condition worsened due to magazine articles depicting her as "a slacker" for having fun while avoiding public duties.

Imperial agency chief Haketa said the emperor and Empress Michiko "seemed deeply hurt" by speculation that the imperial household itself is causing stress to the princess or that she is seeking a more "worthwhile" job.

Japan's emperor enjoys wide respect among the general public, although the post-World War II constitution bars him from holding any political role, defining him as the "symbol" of the nation.

Hiroshi Takahashi, an expert on imperial matters, said Akihito developed the role of the emperor as symbol by carrying out welfare work and palace rituals.

"The emperor is desperate to pass that onto the next generation, while the crown prince puts priority on treatment of the illness" of Masako, he said.

"The emperor must be regretting this," he added.