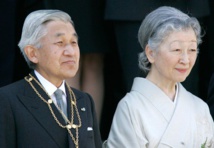 The 85-year-old emperor wearing a morning suit and the empress clad in a long dress offered prayers at his father's mausoleum in the Musashino Imperial Graveyard in the western part of Tokyo.
Tuesday's visit was among a series of ceremonies and rituals for his abdication on April 30, Japan's first in about 200 years.
His elder son, Crown Prince Naruhito, 59, is scheduled to ascend to the Chrysanthemum Throne on May 1. He will also participate in a number of ceremonies marking the imperial succession.
On their last trip outside of Tokyo, the imperial couple travelled to the Ise Jingu ancient Shinto shrine in central Japan last week. It is dedicated to the sun goddess Amaterasu Omikami, the imperial family's ancestral deity.
Emperor Akihito became the 125th emperor on January 7, 1989, at the age of 55, following the death of his father Hirohito, in whose name the country fought World War II and lost.
Notepad