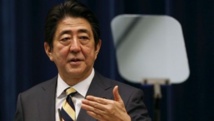 The video uses a split-screen, with Abe seen relaxing on one side while the other half shows popular musician Gen Hoshino strumming his guitar and singing a laid back song from another location.
"You don't see your friends. You don't go to drinking parties. However, everyone's actions like these are helping save many lives," Abe wrote on Twitter.
Hoshino said later on his Instagram that the clip of him singing was used without his permission.
Abe issued a state of emergency last Tuesday for seven prefectures, including Tokyo and Osaka, requesting residents in the regions stay at home, while critics argued the government's plan will not provide enough support for small and mid-sized businesses.
"Our labour union has been swamped with calls from workers who were fired and those whose businesses were forced to suspend without any compensation due to the coronavirus pandemic," Mitsuteru Suda, an official at the National Union of General Workers Tokyo Tobu, tweeted.
"Non-regular workers only drinking water, single mothers struggling to survive without paying utilities bills, temporary workers forced to leave their apartment, are you watching Abe relaxing at home? Stay alive and get angry!" Suda said.
A Kyodo News survey released on Monday showed 80.4 per cent of those polled said Abe's state of emergency declaration was too late, while 82 per cent said the government should compensate businesses that comply with closure requests.
The approval rating for Abe's cabinet was down 5.1 percentage points from the previous month to 40.4 per cent, while the disapproval rate stood at 43 per cent, according the survey.
Japan confirmed 499 new cases on Sunday, bringing the total to 8,104, including 712 on the Princess Diamond cruise ship quarantined near Tokyo in February, according to a Kyodo tally. A total of 150 people died of Covid-19, the respiratory illness caused by the virus.
Abe's government has been accused of hiding the true number of coronavirus cases by limiting tests.
As the number of cases in Japan rapidly rose, shares in Tokyo dropped more than 2 per cent on Monday.
The benchmark Nikkei 225 Stock Average lost 455.1 points, or 2.33 per cent, to close at 19,043.4, while the broader Topix index fell 24.13 points, or 1.69 per cent, at 1405.91.
South Korea's benchmark Kospi Index fell 34.94 points, or 1.88 per cent, to close at 1,825.76.
The Shanghai Composite Index was down 0.49 per cent on the day.
Financial markets in Australia and Hong Kong were closed for Easter holidays.