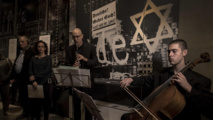 The German conductor Gerhardt Mueller-Goldboom is to lead the Israeli orchestra on April 30, and German baritone Roman Gruebner is to perform.
The idea for the German-Israeli cooperation comes from the Israeli musician Daniel Fradkin, who is to play the viola d'amore in the concert.
The concert's main piece is to be "Janusz Korczak" by German composer Oskar Gottlieb Blarr. It is named after and dedicated to the Jewish Polish paediatrician, writer and educator.
A passionate advocate for children's rights, Korczak was sent to Treblinka, a Nazi death camp in German-occupied Poland, along with 200 children from the orphanage he ran in 1942 despite being given the chance to save his own life.
The Jerusalem Holocaust remembrance centre Yad Vashem is also a partner to the concert, to which mainly Holocaust survivors are invited.
The German Foreign Office is taking on the 40,000-euro (44,500-dollar) cost of the show.