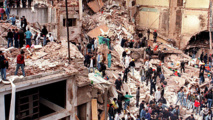 1994 bombing of a Jewish community centre
Ariel Eichbaum, the head of the AMIA Jewish centre that was targeted, called for international action against Hezbollah and Iran for their alleged involvement.
"Twenty-six years of impunity are intolerable, no society can live with such a load," Eichbaum said in a video marking the commemoration.
He pointed out that no one has yet been sentenced for the bombing of the AMIA centre, which also injured about 300 people.
The involvement of Hezbollah has been proven, Eichbaum said, adding that the Argentinian judiciary considered Iran the intellectual author of the attack.
Argentina has designated Hezbollah as a terrorist organization, and secured international arrest warrants for several Iranian suspects.
Eichbaum called on Latin American and other countries to take "concrete action" against the Hezbollah "threat" and to arrest Iranian suspects if they travelled abroad.
The AMIA president accused the Argentinian judiciary of dragging its feet and said political use was being made of the case.
A prosecutor investigating it, Alberto Nisman, was found dead from a gunshot wound in 2015.
Vice President Cristina Fernandez de Kirchner is facing charges for an alleged cover-up of Iran's role through a memorandum of understanding signed during her 2007-15 presidency.
Notepad