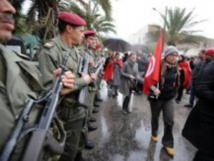 It was not clear where the video was filmed, but Abou Mouqatel claimed they were in an area under the control of IS, which has seized swathes of Syria and Iraq.
"We are going to come back and kill several of you. You will not have a quiet life until Tunisia implements Islamic law," added the militant, whose real name is Boubakr al-Hakim.
Abou Mouqatel appeared along with three other militants, all of them dressed in combat uniform and carrying arms, with black jihadist banners waving behind them.
"Our message to the tyrants of Tunisia and to their soldiers is this -- between us there will (only) be weapons."
Interior ministry spokesman Mohamed Ali Aroui responded by saying "Tunisians are stronger than these terrorists. They mean nothing to us."
Abou Mouqatel, born in Paris in 1983, is considered to be one of the key people organising the flow of foreign jihadists to Iraq, where he himself has travelled to fight.
He was jailed in France for seven years in 2008, but given early release in 2011.
The authorities in Tunis estimate that as many as 3,000 Tunisians have gone to Iraq and Syria to fight with jihadist groups including IS, and have expressed concern that some will return to carry out attacks at home.
- Election 'makes you infidels' -
Belaid, a fierce critic of the moderate Islamist party Ennahda then in power, was murdered in February 2013, and Brahimi, another opponent of the Islamists, in July of the same year.
The attacks, which had not been previously claimed, were blamed by the authorities on the jihadist Ansar al-Sharia group.
The killing of Belaid triggered deadly protests and a political crisis that brought down Islamist prime minister Hamadi Jebali.
Brahmi's murder intensified the crisis, and threatened to derail Tunisia's post-Arab Spring transition until a compromise government was formed in January this year.
On Sunday, Tunisians vote in the second round of a presidential election, capping off four years of a sometimes chaotic transition since the 2011 of longtime ruler Zine El Abidine Ben Ali.
Incumbent Moncef Marzouki faces political veteran Beji Caid Essebsi in the vote -- the first time Tunisians will be allowed to freely elect their president since independence from France in 1956.
The first round, on November 23, saw Essebsi, an 88-year-old who heads the anti-Islamist Nidaa Tounes party, take 39 percent of the vote.
In the video posted Thursday, jihadist Abou Mossaab called on Tunisians to boycott the polls, saying the authorities "are turning you into infidels with these elections".
The government, which has been on alert since October, will be deploying tens of thousands of troops and police to guarantee security during the vote.
Shafik Sarsar, head of Tunisia's electoral commission, recognised Thursday that there were "possible and probable dangers," but added that this "should not change the atmosphere of the elections."
In addition to the jihadist threat, major challenges remain for Tunisia.
The North African nation's economy is struggling to recover from the upheaval of the revolution and there are fears that widespread joblessness will cause social unrest.
----------------------------------------------------------------------------------------------------------------------