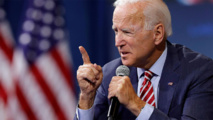 The Democratic presidential candidate says a video of the killing shows "
Ahmaud Arbery
was killed in cold blood," in the
February 23
shooting - and he called for a "transparent investigation into his murder."
Arbery, 25, was running through a neighborhood outside
Brunswick, Goergia
, in broad daylight when ex-cop
Gregory McMichael
and his son, Travis, apparently started following him in a pickup truck.
After
Travis McMichael
brandished a rifle at Arbery, the two men scuffled. Arbery was shot three times and later died of his wounds.
No charges have been filed and the McMichaels remain free. A local prosecutor reportedly says he plans to empanel a grand jury to investigate the killing, but has been delayed by the coronavirus pandemic.
Black leaders call the killing a case of "jogging while black." They want the McMichaels charged with murder and jailed immediately.
A video taken by another motorist appears to confirm that Arbery did nothing to provoke the confrontation.
Gregory McMichael
told police that he and his son followed the jogger and sought to detain him because they believed he resembled a suspect in a recent string of break-ins.
Protests over the killing have been muted so far due to the pandemic. But a crowd of residents Tuesday confronted a local sheriff who pleaded for patience with the probe.