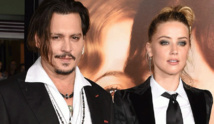 "I also laugh but I don't have a laughter problem," Sky News quoted him as saying.
Depp and his former partner Amber Heard were photographed arriving separately at the court, while other film stars are expected to join parts of the scheduled three-week hearing.
Depp's lawyers said the 57-year-old is suing The Sun's owner, News Group Newspapers, over print and online stories in 2018 headlined: "Gone Potty: How can JK Rowling be 'genuinely happy' casting wife beater Johnny Depp in the new Fantastic Beasts film?"
The newspaper later removed the phrase "wife beater" and changed the headline of the online story, Depp's lawyers said.
The lawyers said Depp had come to court on Tuesday to "clear his reputation," Sky News and other media reported.
They said the "Pirates of the Caribbean" star held that Heard had "invented these stories of serious violence" and accused her of being the "abuser" in their relationship.
"I do not believe that I have an overbearing, manipulative, or controlling personality," the broadcaster quoted Depp as telling the court's afternoon session.
"I truly believe that most of the descriptions that Amber provides are in fact reflections of her own behaviour."
Depp failed in a last-minute bid to exclude Heard from the hearing unless she was giving evidence, her lawyers said.
Lawyers for The Sun insisted that its description of Depp as a wife beater was "entirely accurate and truthful."
"[The defendants] will show that the string of the articles is correct - namely that the claimant beat his wife Amber Heard, causing her to suffer significant injury and on occasion leading to her fearing for her life," the newspaper's lawyers said.
Two more former partners of Depp, actresses Vanessa Paradis and Winona Ryder, are also expected to give evidence, according to British media.
The Sun had questioned whether "Harry Potter" author Rowling should have cast Depp in the film of her book "Fantastic Beasts and Where to Find Them."
It accused Depp of "clearly inexcusable behaviour towards ex-wife Amber Heard." Depp and Heard, 34, separated in 2016.
"Overwhelming evidence was filed to show Johnny Depp engaged in domestic violence against ... Heard," The Sun said, referring to earlier US court action by Heard.
Notepad