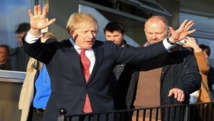 Johnson told reporters later Wednesday he saw a risk that "extreme interpretations" of the withdrawal agreement could put strains on the peace process.
"What we are doing is putting [in] a safety net ... to protect peace," he said.
European Commission Vice President Maros Sefcovic said he had expressed "strong concerns and sought assurances that the UK will fully and timely comply with the withdrawal agreement, including the protocol on Ireland and Northern Ireland" in a phone call on Tuesday with Michael Gove, Britain's senior minister for Brexit.
European Commission President Ursula von der Leyen said she was "very concerned" that breach of the agreement would "undermine trust."
"Breaking international law is not acceptable and does not create the confidence we need to build our future relationship," European Council President Charles Michel tweeted.
Irish Prime Minister Micheal Martin spoke to Johnson by phone, local media reported, after saying he wanted to tell Johnson in the "strongest terms" about the importance of protecting the integrity of an international agreement.
"This is a critical time in the #Brexit process and the stakes are very high," Martin tweeted earlier.
The UK Internal Market Bill includes "limited and reasonable steps to clarify" a provision for different post-Brexit customs rules in Northern Ireland from the rest of the United Kingdom.
Johnson told lawmakers it was "about protecting jobs, protecting growth, ensuring the fluidity and safety of our UK internal market and prosperity throughout the United Kingdom."
Scottish National Party lawmaker Ian Blackford told Johnson the bill was "nothing short of an attack on the Scottish parliament" and breaches both domestic and international law because it centralizes London's control over regional finances.
Opposition Labour leader Keir Starmer urged the government to "consider the reputational risk that it is taking in the proposed way forward,"
Starmer said Johnson's priority should be to negotiate an agreement on post-Brexit trade arrangements with the EU.
Johnson said earlier that he would end the talks if no agreement is reached by mid-October, insisting that a no-deal Brexit would be a "good outcome" for Britain.
Britain formally left the EU in January and entered a transition period until the end of the year, during which it still belongs to the EU single market and customs union.