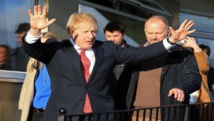 "This fast-tracked activity will further support the government's wider plans to protect jobs and incomes and drive forward the country's economic recovery from the pandemic," the government said.
It said the spending on 50 projects over the next two years will begin a "transformative" 10-year programme to improve school buildings.
"As we bounce back from the pandemic, it's important we lay the foundations for a country where everyone has the opportunity to succeed, with our younger generations front and centre of this mission," Johnson said.
In an interview with Times Radio on Monday, he said he expected "bumpy times" ahead for the British economy.
"We've seen a big fall in our GDP and everybody understands as we come out of it there are going to be some bumpy times but the UK is an amazingly dynamic, resilient economy and we're going to come through it very, very well indeed," Johnson told the newspaper
The Resolution Foundation, a London-based think-tank, on Monday said Britain also needs its "biggest job creation programme in peacetime" to respond to an expected surge in unemployment.
"Major public investment in social care and retro-fitting homes could both spur job creation, and help meet the challenges of an ageing population and climate change," said Nye Cominetti, a senior economist for the foundation.