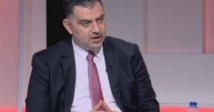 Nidal al-Bataineh
"The curfew continues," he added, telling people not to leave their homes.
Jordan has imposed an indefinite curfew from Saturday to stop the spread of the coronavirus, closing all shops and institutions - and leaving people with no means to buy basic commodities.
In a televised address on Monday evening, King Abdullah urged people to respect the curfew.
"I ask you, as a father to his children, not to move around and to abide by the measures. Let us live up to the responsibility of protecting the homeland we love," Abdullah said.
"I trust, God willing, we will get through this," he added.
The speech came shortly after Health Minister Saad Jaber said that there were 15 new confirmed coronavirus cases, bringing the total number of infections to 127.
The cases registered in recent days include a 2-month-old infant and a 4-year-old child, Jaber said, urging young people not to undermine the danger of the virus.
The government has insisted that the curfew could last for weeks.
Bakeries and pharmacies are to open on Tuesday, allowing people to call and order home deliveries of bread, medicine and baby milk, al-Bataineh said, in order to limit direct contact between people.
The deliveries are to be made by bottled water distributors and municipal vehicles.
A system of delivering basic foodstuffs is to be announced only at the end of the week.
The system "will slightly expand to deliver limited basic commodities because of the restricted logistical capabilities. We want to cover the whole kingdom," al-Bataineh said.
A state of emergency was imposed last week as the number of cases rose within a few days after the only confirmed patient, registered in early March, recovered and left the hospital following a 14-day quarantine.
Hundreds of people have been arrested since Saturday for violating the curfew.