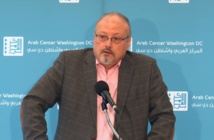 After 9 p.m., more than five hours after the consulate had closed, his friend and fiancée were still waiting outside the consulate in the dark for Mr. Khashoggi to come out.

In a brief phone interview, his fiancée, Hatice Cengiz, confirmed the story and said she was worried about hi

"I don't have any more information than that," she said.

Mr. Khashoggi's apparent detention followed waves of arrests of Saudi clerics, intellectuals, activists and businessmen over the last year as the country's day-to-day ruler, Crown Prince Mohammed bin Salman, has sought to consolidate his control and stamp out dissent.

Mr. Khashoggi, who had been a consummate Saudi insider until he broke away last year, had expressed concern to a friend on Monday that he could be kidnapped and returned to Saudi Arabia if he visited the consulate

While most of those arrested in Prince Mohammed's crackdown were detained inside the kingdom, some were arrested in other Arab countries and forcibly repatriated to Saudi Arabia, where they are being held without clear legal charges. Loujain al-Hathloul, a prominent women's rights activist, was arrested on a highway in the United Arab Emirates and flown home to be jailed in Saudi Arabia.

There was no immediate response from the Turkish government.

Mr. Kislakci said he did not know why Mr. Khashoggi had not come out of the consulate.

"Why haven't they let him go?" Mr. Kislakci asked. "What are they doing in the consulate? We don't know." He said that Turkish authorities had been informed and were following the case.
----------------------------
The New York Times