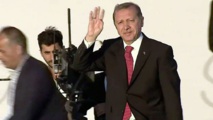 Speaking to dpa, Ertugrul Yigit, 60, said he had receiving a written notice on Friday that he would have to leave Germany of his own accord before January 22 or risk being deported.
Yigit, a vocal critic of Erdogan who has lived in Germany for 36 years and runs a Turkish online newspaper, said he was certain the deportation notice was connected to his protest during the state visit.
During a press conference with Erdogan and Chancellor Angela Merkel on September 28, Yigit - wearing a t-shirt bearing the slogan "Freedom for journalists in Turkey" - was taken out of the room as Erdogan smiled from the podium.
"There's no way it's not connected," he said, adding that he would appeal the deportation decision after a meeting with his lawyer on Monday.
The reason provided by authorities in the deportation notice, which was see by dpa, is that Yigit is not employed and no longer living in a household with his German children.
Erdogan has repeatedly called on Germany to deport or extradite Turkish nationals he suspects of being behind a failed coup in 2016 or other anti-government activities.