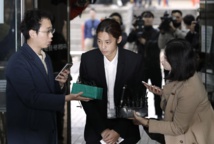 According to the court, there is a risk that evidence will be destroyed. Jung has confessed to his crimes at a previous hearing before the investigating judge.
Jung is accused of secretly filming 10 women while having sex with them. He is said to have shared the video clips and photographs with friends in private online chat rooms.
"I apologize, I made a big and inexcusable mistake," Jung said in court, according to Yonhap.
In addition to his music, Jung also gained popularity through his participation in the popular reality show "Two Days and One Night."
After the allegations surfaced, Jung resigned from the entertainment business.
Another K-pop singer, 28-year-old Seungri from the boy band BIGBANG, is accused of having paid prostitutes to entertain potential foreign investors eager to invest in his business.
The singer has rejected the allegations.
K-pop is mainly associated with girl groups like Girls' Generation and boy bands like BTS. The entertainers follow a well-defined style code, which blends well with their polished image.
Since the mid-1990s, K-pop has been known as Korean Wave or Hallyu, and its popularity has spread quickly beyond South Korea - first to China and Japan, then through-out Southeast Asia, Europe and the US.