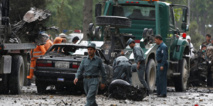 Eighteen people were injured in the attack in the Dasht-e Barchi area of the capital and transferred to hospitals across the city, said Wahidullah Majroh, a spokesman for the Afghan Health Ministry.
The attack took place during a gathering to mark the anniversary of the death of Abdul Ali Mazari, a leader of the Shiite Hazara minority.
Hazaras are a predominantly Shiite ethnic group in Afghanistan who have been increasingly targeted by Islamic State militants, who consider Shiites as heretics.
No group has so far claimed responsibility for the attack.
According to the UN Assistance Mission in Afghanistan, 161 people were killed and 257 others were injured in 2017 as a result of targeted sectarian attacks against Shiite places of worship or worshippers.
An Islamic State attack on a Shiite cultural centre in the same neighbourhood in late December left 41 people dead and 80 others injured.