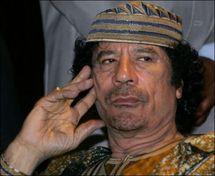 "I have assured myself that the military authorities are determined to organise presidential elections on June 6, so this file is closed from now on," Kadhafi told reporters in a reference to sanctions before leaving Nouakchott.
"The problem is over, the case is closed, because what is needed is the return to civil life," the Libyan leader said.
Political progress in Mauritania has been deadlocked since the military seized power in an August 6 coup that deposed the country's first democratically elected president, Sidi Ould Cheikh Abdallahi.
The AU has sanctions on members of the junta, including a travel ban and a freeze of bank assets. The military rulers have announced they will hold new presidential elections on June 6.
The coup has been widely condemend by the international community.
Kadhafi, who holds the rotating presidency of the pan-African body, met Monday with junta leader Ould Abdel Aziz.
A key Mauritanian opposition group on Thursday rejected Kadhafi's mediation bid, accusing the Libyan leader of trying to legitimise last year's coup.
Mohamed Ould Moloud, spokesman for the National Front for the Defence of Democracy (FNDD) which publicly opposed the coup, told reporters that Libya's mediation effort demonstrated support for the military leadership.
"We can never participate in a mediation under Libyan authority as long as the Libyans maintain this attitude of seeking to have us accept a putschist fait accompli," he told reporters.
Kadhafi's "total backing" for the military junta constituted "a fundamental blow to his role as mediator and a violation of international community directives," according to a statement by the FNDD.