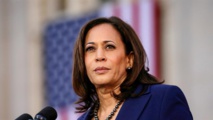 Since becoming a senator in 2017, though, she's been a congressional leader in efforts to revamp the criminal justice system, becoming notably outspoken since
George Floyd
died in
Minneapolis
on
May 25
while in police custody.
The choice was hailed by
Democrats
. House Speaker
Nancy Pelosi
, Democrat of
California
, who said that throughout her career, Harris "has advanced a more just and fair future for all."
Harris' positions over the years raise questions from those familiar with her in
California
about her views.
At She the People,
Aimee Allison
, the
Oakland, California
-based founder and director of the national network for women of color, said last month that Harris was "considered a moderate to liberal prosecutor who wasn't talking about structural change."
Tuesday, Allison was enthusiastic about the Harris pick. She called it a "watershed moment for Black women and women of color."
Sacramento
-based Democratic strategist
Andrew Acosta
noted that Harris' record was well-known, and she's weathered any storms it caused. "A lot has come out, and people know what they're getting," he said.
Harris' positions over the years have in the past raised questions from those familiar with her in
California
about her views.
"She would be astute enough to see where things are going and then try to move in that direction ... Is she going to stand firm on her 2020 positions?"
Brian Marvel
, president of the
Peace Officers Research Association of California
, told
The Sacramento Bee
recently.
Allison cited Harris' recent efforts to lead the way on police reform.
"In the past months,
Senator Harris
has taken a stand against police brutality in the streets and in the
Senate
. Her work to understand the struggles of the women of color leading the movement on the ground is what sets her apart in this critical moment," Allison said.
While attorney general, Harris did not take a position on the 2015
California Assembly
proposal to make sure incidents involving police using deadly force were independently investigated. Now, though, the bill's sponsor views her as an important voice aiding his bid to pass the measure.
Other positions:
- Harris was against a 2010 state initiative to legalize marijuana, and now strongly supports legislation.
- She did not support the 2015 effort to require all law enforcement officials to wear body cameras. She did have agents in her own department do so, but said local governments should decide if their employees should wear them.
- She was against a 2004 state initiative to ease
California's
minimum mandatory sentencing laws. The criminal justice reform plan she proposed last year would end minimum mandatory sentences.
Harris explained in 2004 that while she was not comfortable with the three strike laws, the need to prove intent would make it harder for her to prosecute domestic violence cases. The ballot measure, which was defeated, would have reclassified eight felonies that counted as a "strike," including burglary of an unoccupied home and certain arsons that did not cause significant injury.
As attorney general in 2011, she also was not eager to join a bid to soften the law.
"When I was district attorney for
San Francisco
, I had a three strikes policy that in general did not seek a 25-year-to-life sentence unless it was of a serious or violent nature," she told KPCC public radio.
But, she said, "We also have to give weight to the ability of elected DA's to exercise good judgement in determining who will end up in state prison."
When Harris ran for president in 2019, though, she was clear on her position. Her criminal justice reform plan said it succinctly: "Eliminate all mandatory minimums by letting judges issue sentences below the mandatory minimum."
Doing so on the federal level, Harris said, would motivate states to do the same. And she would aid prosecutors by providing federal funds to help them decide which cases would best help "promote public safety and justice."
One of the most vocal criticisms against Harris involves her view of the death penalty. Harris has long opposed the death penalty.
Shortly after she became
San Francisco's
district attorney, Officer
Isaac Espinoza
was killed. Harris would not seek the death penalty against suspect
David Hill
, who would be given two consecutive life terms.
"I gave my word to the people of
San Francisco
that I oppose the death penalty, and I will honor that commitment despite the strong emotions evoked by this case," she told the
San Francisco Chronicle
.
Many in the law enforcement community were furious, and worked for her opponent when she ran for attorney general in 2010. But over the years, the relationship was repaired.
And in 2014, after a federal judge ruled
California's
death penalty unconstitutional, Harris appealed the decision.
"It is not supported by the law, and it undermines important protections that our courts provide to defendants," she said at the time. "This flawed ruling requires appellate review."
Harris' time as attorney general was also involved in another controversy. A veteran Harris staff member resigned his job in 2018 after the Bee inquired about a 400,000 dollars harassment and retaliation settlement resulting from his time working for Harris at the
California Department of Justice
.
Larry Wallace
, who was director of the
Division of Law Enforcement
, was accused by his former executive assistant in
December 2016
of "gender harassment" and other behavior, including often asking her to crawl under his desk to change the paper in his printer.
The lawsuit was filed on
December 30, 2016
, when Harris was still attorney general but preparing to be sworn in as
California's
newly elected Democratic senator. It was settled in May, 2017, by
Xavier Becerra
, who was named to succeed her as attorney general.
"We were unaware of this issue and take accusations of harassment extremely seriously. This evening,
Mr. Wallace
offered his resignation to the senator and she accepted it," Harris spokeswoman
Lily Adams
told the Bee in 2018.