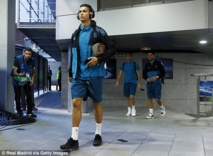 Berlin

(dpa)

-
Something has to give when two teams with perfect records - Real Madrid and Tottenham Hotspur - square off in the third group games of the Champions League.
Meanwhile Jupp Heynckes is back in the competition with Bayern Munich, facing Celtic. The last time 72-year-old Heynckes led Bayern in Europe, they won the 2013 final at Wembley.
Along with holders Real and Spurs, six other teams have perfect starts to maintain this week. Manchester United, Manchester City and Chelsea make up a perfect Premier League quartet, while the others with unblemished points tallies are Barcelona, Paris St Germain and Besiktas.
Tottenham face the toughest challenge of the English contingent when they visit Real Madrid in Group H on Tuesday. The spotlight also falls on the sides' strikers - Spurs will be hoping Harry Kane, who leads the way so far this campaign with five goals after two games, can upstage all-time record-holder Cristiano Ronaldo (on four goals) on his home turf.
Spurs manager Mauricio Pochettino expects a much sterner test in Spain after opening with 3-1 and 3-0 wins.
"I think it's a big challenge for us in the Champions League, a different competition," he said. "We are going to play one of the best teams in the world.
"I think it's exciting to play against Real Madrid at the Bernabeu for everybody. I think it will be a very tough game."
Real coach Zinedine Zidane will be without Dani Carvajal, Mateo Kovacic and former Tottenham idol Gareth Bale, but can welcome back Keylor Navas in goal following injury.
Midfielder Luka Modric though does come up against his old old club, and told UEFA.com: "I had four marvellous years at Tottenham. The fans were great with me.
"They have improved as a club. They have invested in the squad and they have a new stadium and a new training ground. I wish them all the best apart from in their two games against us."
On Tuesday, the English and Italian league leaders meet in Group F when Manchester City take on Napoli, who ended the English club's 2011-12 Champions League debut in the group stage.
City have been a scoring at will this season with 37 goals in 11 games this season, including seven at the weekend against Stoke.
In another Premier League v Serie A matchup, Group C leader Chelsea - shocked by winless Crystal Palace 2-1 on the weekend - host second-placed Roma on Wednesday.
Group A leader Manchester United, the final perfect English team, visit bottom side Benfica on Wednesday, and Liverpool, with two draws in Group E, are away to last-placed Maribor on Tuesday.
Barcelona remain unbeaten in all competitions and should be at full strength on Wednesday for the visit of coach Ernesto Valverde's former club Olympiakos in Group D, while Group B leaders Paris Saint-Germain travel to Anderlecht, and Besiktas are at Monaco in Group G on Tuesday.
Atletico Madrid face Qarabag in Group C, looking for a first win, while Group E leaders Sevilla travel to Spartak Moscow, and Italian champion Juventus greet Sporting Lisbon, with both sides on three points as they chase Barcelona in Group D.
"It's a very important match which could be crucial in getting out of the group and we have to win it," Juve coach Massimiliano Allegri said.
"Sporting play football and defend well so we'll need to be very patient."
Heynckes rejoins the action with Bayern at home to Celtic, who are level on three points with the Germans in Group B.
Hynckes began his fourth stint in charge of Bayern with a 5-0 win over Freiburg to put his side in good stead for Wednesday as they look to bounce back from a 3-0 defeat to PSG which ended Carlo Ancelotti's tenure.
The other German teams are up against it on Tuesday - Borussia Dortmund are at Apoel Nicosia, with both sides looking for a first point to have any chance against Real and Spurs, while RB Leipzig are looking for a first win when they host Porto in Group