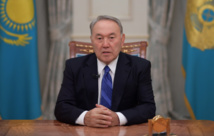 President Nazarbayev
Tokayev, a former diplomat who prior to being elected speaker of the Senate served as Kazakhstan's foreign affairs minister, will be sworn in on Wednesday, Nazarbayev announced.
Nazarbayev, a former Communist Party official who rose to power at the height of Soviet leader Mikhail Gorbachev's political reforms, has ruled the resource-rich Central Asian country with an iron fist since 1990.
Nazarbayev, who pushed through a law in 2007 that allows him to seek office without any consecutive term limits, was last re-elected in April 2015 with nearly 98 per cent of the popular vote and was supposed to serve until 2020.
While Nazarbayev has been credited with steering the country largely clear of the social, political and ethnic unrest that beset many neighbouring, former Soviet republics following the collapse of the Soviet union in 1991, Kazakhstan has recently suffered severe economic and social problems.
Human rights activists and critics also accuse Nazarbayev of suppressing dissent and political opposition, driving out or imprisoning potential opponents and prolonging his rule through questionable referendums and votes.