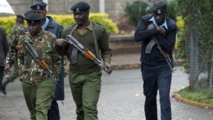 "The members of the public forced their way into the station,
overpowering the officers who were manning the station and attacked
the student," Turkana West police chief David Nyabuto told dpa on Sunday.
According to Nyabuto, the villagers beat the 17-year-old suspect in the Kakuma police station and then burned him to death on Saturday afternoon.
The teen was believed to have killed six people and injured more than 20 others when he stormed the AIC Lokichogio Mixed Secondary School in the north-western town of Lokichogio with two armed men on Saturday.
Police said he had searched for the head teacher and a student with whom he had fought before shooting indiscriminately at students.
Police said the suspect belonged to South Sudan's Toposa tribe and had argued with another student of Kenya's Turkana tribe. The two tribes regularly clash over livestock ownership in the region.
Lokichogio is located 30 kilometres from the South Sudanese border and some 93 kilometres from the Kakuma refugee camp, Kenya's second-largest, which hosts more than 185,000 refugees who mostly hail from neighbouring South Sudan.
Kenya's Turkana county government has blamed the national government
for lax security matters at Kenyan border points.
"We as the county government will conduct an audit of the
security situation of the schools located near the
border," Turkana deputy governor Peter Lotethiro said in comments broadcast on Saturday.
Lotethiro also urged the South Sudanese government to cooperate
with Kenyan authorities to arrest two of the late suspect's
accomplices, who are believed to have escaped to South Sudan.
Notepad