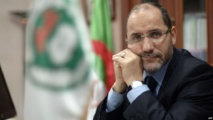 "The gang [the ruling authority] has refused to respond to the Algerian people until today and this moment. It has to listen to the voice of the street and implement what it wants," said Makri, the head of the Movement for the Society of Peace, Algeria's biggest Islamist party, in an online statement late Saturday.
Earlier this week, Bouteflika bowed to two weeks of massive street rallies and dropped his bid for a fifth term in office.
But the 82-year-old also announced an indefinite delay to presidential polls that were originally scheduled for April 18 - a step seen by protesters as an attempt to prolong his rule.
On Friday, tens of thousands of Algerians took to the streets, demanding a radical change to the ruling system.
Makri called for keeping the anti-Bouteflika demonstrations peaceful.
"We have to make sure that this [protest] movement will not slide into violence. This is the responsibility of [the] people as well as the security and military agencies," he said.
In the 1990s, Algeria experienced a civil war after elections that Islamists appeared certain to win were cancelled.
Bouteflika, who has been in power since 1999, extricated Algeria from the strife that resulted in about 200,000 deaths.
His current tenure ends on April 28. He suffered a stroke in 2013 and has since been rarely seen in public.
Notepad