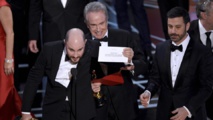 As the dust settles on the error that saw the award go momentarily to "La La Land" instead of the rightful winner, "Moonlight," some critics are lamenting that the controversy has drawn attention away from a stunning night of hits -- and some spectacular snubs. Here are five takeaways from the 89th Academy Awards that you may have missed in all the drama
- Was it really #OscarsSoDiverse?
After the #OscarsSoWhite hashtag caught on in 2016 -- the second straight year when no ethnic minority actors were nominated -- Barry Jenkins's coming-of-age tale "Moonlight" struck a chord as a moving look at contemporary African-American life.
There were six nods for black actors overall, as well as three documentary nominees telling African-American stories, a screenplay win for Jenkins and his writing partner Tarell McCraney and a best animated feature win for "Zootopia," an allegory on race relations.
In another nod to diversity, Katherine Johnson, the black NASA mathematician Taraji P. Henson played in "Hidden Figures," joined the actress onstage to present the best documentary Oscar for "O.J.: Made in America."
But critics pointed out that race is not simply a black-and-white issue.
There was just one other non-white acting nomination -- for British-Indian Dev Patel -- while Syrian documentary short "The White Helmets" and Iranian director Asghar Farhadi's "The Salesman" were left to represent the entirety of Middle Eastern filmmaking talent.
In what some critics saw as adding insult to injury, host Jimmy Kimmel was criticized for a joke about not being able to pronounce an Asian woman's name while Mel Gibson, famously ostracized for anti-Semitism, was brought back into the fold with a best director nomination.
- The 'in memoriam' faux-pas
You'd be forgiven for missing it, but there was another big blooper -- in the "in memoriam" section remembering entertainment industry figures who have died in the past year.
Costume designer Janet Patterson, who died in October, was commemorated with an image of her friend, veteran Australian movie producer Jan Chapman, who is still very much alive.
Patterson was a four-time Oscar nominee and both women received nods from the Academy for their work on Jane Campion's "The Piano" (1993).
Bill Paxton, who had died at the age of 61 just one day earlier, was omitted from the memorial reel.
Jennifer Aniston, who introduced the segment, gave the actor an emotional tribute but Twitter users demanded to know why producers hadn't found the time to get Paxton into the footage.
- The EGOTs and the have-nots -
Lin-Manuel Miranda started the evening an Oscar win away from bagging the prestigious EGOT -- competitive wins in the Emmys, Grammys, Oscars and Tony Awards -- for his work in "Moana," but lost out in the original song category to "City of Stars," written for "La La Land" by Justin Hurwitz.
Meanwhile, a Grammy-winning audiobook would push Viola Davis into the exclusive club after she won a best supporting actress Oscar for "Fences."
Only 12 entertainers in history have joined the EGOT club, including such luminaries as John Gielgud, Audrey Hepburn and -- among those still alive -- Whoopi Goldberg and Mel Brooks.
- Surprises and snubs -
The best picture win for "Moonlight" -- quite apart from the controversy surrounding the announcement -- was a huge shock in what was thought to be one of the safest categories of the night for "La La Land."
"La La Land" was an underachiever all night. Expected to take home at least nine Oscars from 14 nominations, it also underperformed in the sound mixing and editing categories.
Sound mixer Kevin O'Connell's Oscar win for his work on war drama "Hacksaw Ridge" was an achievement as epic in its own way as any other -- it broke a decades-long losing streak of 20 previous nominations.
One of the bigger snubs of the night was endured by much-admired alien movie "Arrival," which took home just one statuette for sound editing despite eight nominations.
And speaking of "Arrival," the omission of its star Amy Adams from the nominations had already ruffled many feathers in Tinseltown.
Despite widespread acclaim for her performance, and fulsome praise for her lead part in "Nocturnal Animals," the five-time losing nominee will have to wait at least one more year for Oscars recognition.
Annette Bening was also considered to have been very unlucky not to have been recognized for her role in "20th Century Women."
- Politics in the spotlight -
If not for the last-minute calamity, the 89th Academy Awards may well have gone down as the "Political Oscars."
Farhadi, who directed best foreign language winner "The Salesman," was absent from the ceremony in protest at President Donald Trump's travel ban, which was rescinded after running into legal difficulties.
"My absence is out of respect for the people of my country and those of (the) other six nations whom have been disrespected by the inhumane law that bans entry of immigrants to the US," he said in a statement.
Blue ribbons symbolizing unity became the fashion accessory of choice among the attendees, and there were plenty of jokes from host Jimmy Kimmel who trolled Trump live on Twitter.
"I want to say thank you to President Trump. Remember last year when it seemed like the Oscars were racist? That's gone, thanks to him!" he scoffed.