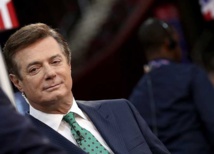 Rick Gates, Manafort's ex-protege, said his former boss hid the payments from his own accountants to avoid paying US income taxes, media in the courtroom reported.
It was the second day on the stand for Gates, who admitted Monday that he embezzled money himself from Manafort's consulting agency.
Gates in February admitted to conspiracy and making false statements in a plea agreement with the office of Justice Department special counsel Robert Mueller.
Manafort is being tried in Alexandria, Virginia, just outside Washington, on 18 counts of tax evasion and bank fraud.
After Russian-backed Ukrainian president Viktor Yanukovych was toppled in 2014, consulting income from his Party of Regions dried up, leaving Manafort financially strapped.
On the stand, Gates said Manafort ordered him to falsify an income statement to inflate their firm's profit for the purpose of qualifying for a bank loan, the Washington Post reported.
The defence team, which in opening statements last week accused Gates of orchestrating the alleged fraud to hide his own crimes, is expected to begin cross-examination later Tuesday.
Manafort, who headed the Trump campaign for less than two months until his Ukraine work became public in August 2016, is the first defendant to go on trial in Mueller's probe into Russian meddling in the 2016 election and possible collusion with Trump's campaign.
The trial could stretch into next week.
Trump last week distanced himself from Manafort, tweeting that the case constituted "old charges" that have "nothing to do with Collusion - a Hoax!" He called the special counsel prosecution team a "disgrace to USA!" for doing Mueller's "dirty work."
Manafort is scheduled for a further trial in September in Washington on a second federal indictment on charges including conspiring to defraud the United States, money laundering, false statements, obstruction of justice and failing to register as a foreign lobbyist.
The 69-year-old, who faces decades in prison if convicted at both trials, has been jailed since June, when his bail was revoked after Mueller's office accused him of witness tampering.
Days before becoming chairman, Manafort, who had volunteered in early 2016 to work unpaid for the campaign, attended a meeting at Trump Tower in Manhattan with a Russian lawyer who promised damaging information about Trump opponent Hillary Clinton. Trump's son and son-in-law, Donald Jr and Jared Kushner, participated in the meeting.