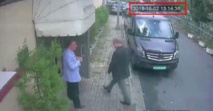 But the outcry over President
Donald Trump's
seeming indifference _ his declaration Tuesday that he was, in essence, taking the word of Crown Prince
Mohammed bin Salman
over that of American intelligence agencies, which say the kingdom's young de facto ruler almost certainly authorized Khashoggi's assassination - points up another uncomfortable phenomenon: Although Western governments are often critical of the Saudi flouting of human rights standards, most are nonetheless willing to continue doing business with its oil-rich absolute monarchy.
It's not that other abuses go undocumented. On the same day that Trump explicitly framed his response to the murder dismemberment of Khashoggi in terms of American financial interests, two international watchdog groups -
Human Rights Watch
and
Amnesty International
- raised allegations that incarcerated Saudi women activists were being subjected to electric shocks and beatings that left some unable to properly stand or walk.
The US State Department
, in its annual human rights report last year, cited Saudi practices including unlawful killings, arbitrary arrests and detentions, restrictions on freedom of expression, gender discrimination, human trafficking and criminalization of homosexual activity.
Here is a look at some widely cited violations of basic rights in
Saudi Arabia
.
HARSH PUNISHMENTS:
Saudi Arabia's
judicial system is grounded in Shariah, or Islamic law. It has one of the world's highest rates of executions, usually carried out by beheading with a sword.
Human Rights Watch
counted 48 cases of capital punishment in the first four months of this year, half of them for nonviolent crimes such as drug offenses. Other punishments include amputations of a hand or foot and public floggings.
WOMEN'S RIGHTS:
Crown
Prince Mohammed
, the heir to the Saudi throne, won worldwide plaudits in June by lifting the ban on women driving - a high-profile gesture that fit with a reformist image. But Saudi women are still subject to "guardianship" rules, rooted in Islamic law, that relegate them to the status of legal minors, requiring the permission of a male relative, sometimes a young boy, to marry, travel abroad or make other important life decisions. Most women adhere to a strict public dress code that calls for wearing a concealing cloak known as an abaya and a head scarf. Many public spaces remain segregated by gender.
SIDELINING OF RIVALS:
A year ago, the crown prince launched what was billed as an anti-corruption drive that saw the detentions of about 200 people. Among those caught up in the crackdown were government officials, business leaders and members of the royal family, including one of the world's wealthiest men, Prince
Alwaleed bin Talal
. A luxury hotel, the
Riyadh Ritz-Carlton
, served as a prison, but in a jarring contrast to the luxurious surroundings, reports filtered out of at least some of the detainees being abused to the point of needing medical care. The government said it seized more than 100 billion dollars in improperly gained assets, but suspicions that Mohammed was acting primarily to consolidate his power were fueled by secrecy surrounding the crackdown and a lack of transparency in any legal proceedings.
JAILING OF DISSIDENTS:
Saudi Arabia
has for decades kept a tight lid on dissent, and rights groups say that practice has continued unabated - even intensified - since Mohammed became crown prince in 2017, with clerics, journalists, intellectuals and activists among the targets. Dozens of human rights defenders have been placed behind bars, sometimes without trial. Well-known cases include that of blogger
Raif Badawi
, charged with offenses including "undermining the regime," who was sentenced to a decade in prison and 1,000 lashes, the first of which were publicly administered in 2014. His sister,
Samar Badawi
, has been held since the summer on charges related to her activism. Some self-exiled dissidents have been the target of efforts to lure them home or snatch them overseas, in a chilling echo of the Khashoggi case. Loujain Hathloul, who campaigned for women's right to drive, was forced to return from the
United Arab Emirates
and remains imprisoned.
REPRESSION OF RELIGIOUS MINORITIES:
Saudi Arabia's Shiite Muslim minority, making up about 15 percent of the population, has long been subject to discrimination and repression. Those who seek equal rights have faced sharp reprisals; Shiite activist Israa Ghomgham, who took part in peaceful protests for rights for the Shiite minority, was jailed and could face the death penalty.
PUSHBACK AGAINST OUTSIDE CRITICS:
In August,
Saudi Arabia
responded to mild criticism from Canadian Foreign Affairs Minister
Chrystia Freeland
about the imprisonment of dissidents with a full-on diplomatic tantrum - expelling the Canadian ambassador, ordering Saudi students out of
Canada
and dumping Canadian assets. Many observers viewed the episode as a warning that no criticism of the monarchy would be tolerated - again, an eerie foreshadowing of the fate of Khashoggi, a
Virginia
resident who wrote columns for The
Washington Post
, some of them critical of the crown prince.
THE WAR IN
YEMEN
:
Prince Mohammed
has spearheaded
Saudi Arabia's
military role in the 3-year-old civil war in
Yemen
, the Arab world's poorest country. Even before he was named crown prince, the 33-year-old thrust
Saudi Arabia
into a proxy conflict with
Iran
by employing massive military force against
Houthi
rebels, a costly battle that remains a stalemate. The grinding conflict has given rise to the world's most acute humanitarian crises; at least half of the population of 28 million is considered at risk of famine, and this week, the charity Save the Children estimated that 85,000 children younger than 5 have starved to death.
SPHERE OF SAUDI INFLUENCE:
Saudi Arabia
is the main Sunni Muslim power in the region and has presented itself to the Trump administration as a crucial bulwark against Shiite Iran. Other Sunni states, particularly
Saudi Arabia's
neighbor and ally, the
United Arab Emirates
, sometimes take a cue from the kingdom in their own treatment of anyone considered to pose a threat, however mild, to the rulers. This week, British academic
Matthew Hedges
was sentenced to life in prison in
Abu Dhabi
on what critics call trumped-up charges of spying for
Britain
. Rights groups said his court hearing lasted less than five minutes, without a lawyer present.