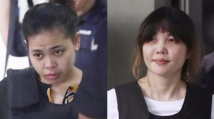 The unidentified man was seen at the restaurant counter ordering a drink before walking back to a table, where he was met by 25-year-old Siti Aishah, investigating officer Wan Azirul Nizam told the court.
The man handed Aishah what appeared to be a taxi ticket, which she placed inside her bag, the police officer testified.
Aishah and 29-year-old Doan Thi Huong of Vietnam have been charged with murder for the killing of Kim, the estranged half-brother of North Korean leader Kim Jong Un.
They are accused of wiping a highly toxic chemical nerve agent on Kim's face at Kuala Lumpur's international airport on February 13. If convicted the two could face the death penalty.
The two have reportedly said they were tricked into carrying out the attack, which they thought was a television prank. Both women pleaded not guilty to murder on October 2 in the high court.
In separate video footage shown in court on Wednesday, Kim, who was identified by police in court as Kim Chol, could be seen in the departure hall on the day of the assassination looking at the airline boards near the check-in counter.
Doan was seen with both of her hands on Kim's face, covering his eyes. Aishah could not be clearly seen during the attack but she was identified in other footage hurrying away from the scene.
Both women headed straight to the washrooms as if they were trying their best to avoid cross contamination of the VX chemical on their body and clothes, Wan Azirul said.
After the attack, Doan "was in a haste to leave the area, and the movement of her hands showed she was uncomfortable," he said.
"She had her hands out [and] seemed as if she wanted to avoid touching her body or clothes," he added.
"I saw her face was nervous and she seemed like she wanted to get out of there ASAP," he said.
Doan headed straight to a washroom on another floor. She spent slightly more than a minute inside the washroom and when she emerged she seemed more relaxed, Wan Azirul said.
She could be seen using her mobile phone and then she walked to the airport taxi area. Aisyah arrived shortly afterwards, Wan Azirul said.
Also on Wednesday, the court saw CCTV footage showing Doan smearing a substance on a person's face two days before the February 13 killing in an apparent practice session.
The footage showed Doan approaching a man quickly and swabbing both hands on his face in a "peek-a-boo" gesture before pulling them back and running away.
Notepad