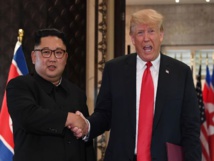 Kim arrived at Dong Dang railway station in Lang Son province at the Chinese border at 12:30pm (0500 GMT) after riding 170 kilometres in a motorcade from Hanoi. The ride home in his armoured train will take around three days.
Well-wishers, including students waving North Korean and Vietnamese flags and a ceremonial guard, greeted him at the station along with government officials from Hanoi.
Kim arrived by train in Vietnam on Tuesday to attend a two-day summit with Trump to discuss nuclear disarmament on the Korean Peninsula. Talks broke down on Thursday, however, and a celebratory lunch was aborted.
Trump afterwards told reporters the North Korean had unacceptably asked for total sanctions relief as a precondition to disarmament.
But at a press conference held in Hanoi late Thursday, North Korean Foreign Minister Ri Yong Ho disputed Trump's version of events, saying Kim had only asked for partial relief.
Following Trump's departure from Hanoi on Thursday, Kim began an official state visit to Vietnam. He met with President Nguyen Phu Trong at the Presidential Palace on Friday, where the two embraced.
Before his departure on Saturday he also visited the mausoleum of Ho Chi Minh, the founder of modern Vietnam, whose remains still lie in state 50 years after his death.