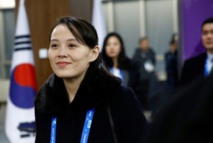 In her first official statement released outside North Korea, Kim Yo Jong accused the South Korean presidential office of hypocrisy and "feeble-minded thinking" on Tuesday evening.
"It is really the height of folly that those keen on war exercises poke their noses to the military exercises conducted by the other" the statement said, according to state news agency KCNA.
On Monday North Korea fired two projectiles into the sea off its eastern coast, the South Korean military said.
Two "short-range" unidentified projectiles flew 240 kilometres - at maximum altitude of 35 kilometres.
The exercise was not intended to threaten anyone, Kim Yo Jong, who holds a government position, said.
United Nations Security Council resolutions ban North Korea from firing ballistic missiles, which, depending on their design, can also carry nuclear warheads.
A South Korean military advisor said the military exercises were "not helpful" to efforts to ease tensions on the Korean peninsula.
Kim Yo Jong has previously met South Korea's head of state Moon Jae In in a bid to ease tensions between the countries.
However, due to faltering nuclear negotiations between North Korea and the US, there has recently been little communication between Pyongyang and Seoul.
Negotiations stalled after a failed summit between US President Donald Trump and the North Korean leader in February 2019 in Vietnam.
Notepad